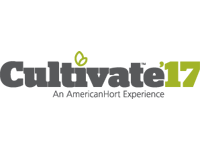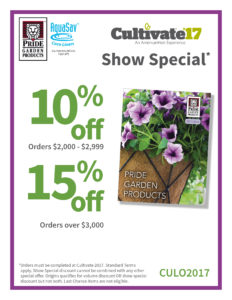 Why the New Booth this Year?
With so many new, innovative products added to our lineup, one Cultivate booth was not enough. We're excited to say that Pride Garden Products has expanded to two booth locations! Booths 2541 & 2637 will be stocked with a variety of products old and new, our brand new 2017 catalog, as well as a few new faces to our Pride sales team. Stop by, bring your order, and prepare to save up big!
What's the Show Special?
Save 10% on orders of $2,000 – $2,900 and save 15% on orders over $3,000! You must complete your order at the Cultivate 2017 show.
Standard Terms apply. Show Special discount cannot be combined with any other special offer. Origins qualifies for volume discount OR show special discount but not both. Last Chance items are not eligible.