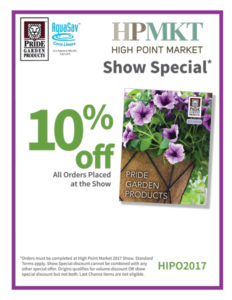 Pride Garden Products is headed to the High Point Market and we're bring our new innovations in container gardening! Come see our new additions to our Origins, Smart Resin™, and Live Green™ lines in person. Stop by our booth to save 10%* off your order.
What: High Point Market
When: October 14-18
Where: The Suites at Market Square, Mezzanine Level, 200 West Commerce Street High Point, NC 27260
Booth Number: M-5038
*Orders must be completed at High Point Market 2017 Show. Standard Terms apply. Show Special discount cannot be combined with any other special offer. Origins qualifies for volume discount OR show special discount but not both. Last Chance items are not eligible.